Your Dowsers Board says,  Friends and new friends,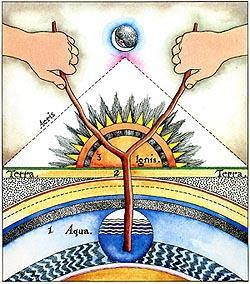 You are invited to the Appalachian Dowsers Quarterly Meeting on Saturday, February 16th at Unity of the Blue Ridge, from 1-3 pm. As usual, an Introduction to Basic dowsing skills class will run from 11-12:30 prior to the main presentation.
        Our meeting theme is "Empowering the Dowsers" with introductory presentations from a handful of our Appalachian Chapter's highly experienced dowsers in the areas of water dowsing, geopathic energies, dowsing science, and learning to ask clear questions to get better answers. 
        The moderated introductions will be followed by the collection of group questions and topics to be shared. Then all of us will collectively pick a few questions or topics to further explore. This process is intended to build better intuitive skills for everyone. We may break in smaller groups for more individual participation. More experienced long-time dowsers may choose to form a group around a humanitarian issue of their choosing.
        We'll share a summary of each groups discussions, new skills suggested, etc. We can each become better questers in 'SENSING THE UNSEEN…'"
Besides the long history of Dowsing for locating water or oil and gas, dowsing has been used for discerning energy in general and as a tool in exploring ones spiritual dimensions.  In this session we will take on the adventure of how to sharpen, hone and refine your dowsing techniques so that you will have a more satisfying and effective experience as you explore the mystery of this ancient tool in accessing the realms beyond our physical boundaries.  
So bring your questions and your pendulums for an in depth excursion into refining your dowsing skills to become a more courageous, effective, and empowered dowser.  
Reminder:We have made a few changes to our program
We now start the pre-Presentation Dowsing classes at 11:00 AM sharp and go to 12:30 PM.

The Main Presentations start at 1:00 PM. and will now go to 3:00 PM with a short water/coffee break (no food). 

We suggest that those who come early for classes may want to bring a brown bag 

lunch for the in-between break time. 
The VOLUNTEER TEACHERS who love to share their knowledge ask that those coming to class please BE ON TIME so as not to disrupt the others already learning.OUR All-VOLUNTEER team REQUESTS A FEW NEW PARTICIPANTS. WE NEED another BOOK SALES VOLUNTEER. Please call to join our fun team. Contact Lee Barnes (lbarnes2@earthlink.net; 828-646-1593 cell

There will be a 30 minute Break in the middle of the presentation. (donations requested). 
11:00 am -1:00 pm

  REGISTRATION 

(Books and Dowsing Instruments for Sale)


               Book Store Opens at 12 NOON.

11:00 am – 12:30 pm               

        BASIC DOWSING CLASS (free)      


Offered freely each quarter (pendulums  and L-rods provided) ~  with Lee Barnes +/or Marty Cain 

1:00 pm – 3:00 pm

PROGRAM PRESENTATION  
 

$10 for visitors, Free for members




(memberships open $25 year quarterly meetings and summer socials 

    


(15 minute break ~ 2 PM)      


 NOTE! bring your own snacks )

3:00 pm – 3:30 pm 

BOOK TABLE and PRESENTER TABLES: 


Book sales table & dowsing practice course remain open 


We appreciate those who choose to come early or stay a bit to help set up and/or close down.  

  

 Contributions to the Coffee and Tea sideboard is appreciated. 
Directions to Unity Center:
Take I-26 to Exit 40 (Airport Rd. / Rt. 280). Turn west toward the airport and Brevard. At about 1.5 mile turn RIGHT at the light onto Ferncliff Park Rd (formerly Old Fanning Bridge Rd). At the traffic circle take the 3rd circle exit onto Old Fanning Bridge Rd. At about 1.4 miles the Unity Center entrance will be on the left.
From Mills River, take 280 north and turn Left on 191 North toward Asheville. At 1.4 miles, turn Right on Old Fanning Bridge Rd. The Unity Center will be on the right at about ½ mile.
The address is 2041 Old Fanning Bridge Rd, Mills River NC 28759